Saunas, barrel saunas, oval saunas, steam rooms, glass saunas, module saunas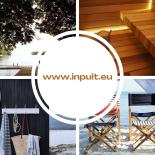 EVERYBODY LOVES A GOOD SAUNA!
Sometimes, living longer and better doesn't take as much as one might think. If you want to add numbers to your years and enjoy better cardiovascular health while doing it, going to a sauna is for you! It is recommended to visit a sauna at least four times a week. The tradition of Finnish saunas, characterized by their simplicity, has been passed on for a thousand years. The air in the sauna is hot and dry, made temporarily humid by throwing water onto warmed stones. The sauna is heated until the temperature rises to 70–100 °C. It has multilevel benches, where one can choose a spot to sit that has just the right amount of heat for them. After each turn of sitting on the sauna bench, it is nice to cool oneself by bathing in cool water or being in the open air. Moments spent in the sauna cannot be rushed – one has to take the time to thoroughly enjoy the relaxation.
Subcategories